Here is a presentation of Uplay-Istrip.com belote:
The game
Discover the sexy belote and its interactive videos:
To show you more the sexy belote more in details, let's see some screenshots.
Your partner and your 2 opponents will be on the interactive video that will be played in front of you. Your cards are displayed on the screen and you just have to click on the one you want to play.
Win and discover the striptease:
The first team reaching 250 points wins the game. If it's you, you can choose the girl you want to see stripping. If not, she will put back what she just took away.
A real strip game:
You will have to play as well as you can to see the 2 entire striptease!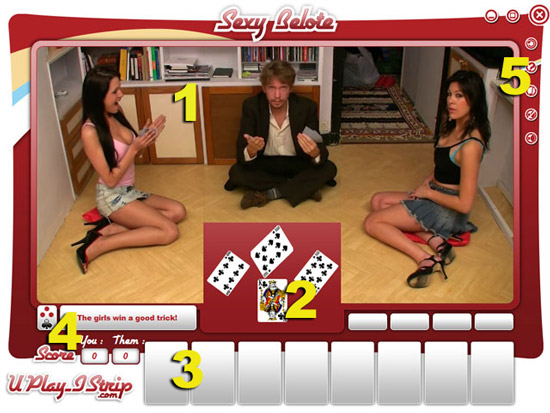 1. The video is played on the central screen
2. The cards being played
3. Your cards
4. The score
5. The options menu
Explore a new kind of adult video game! All the games are based on interactive videos and very sexy strip tease.
Partners: Interactive Porn POV Sexy-Strip-Poker.com
Uplay Istrip: all our product are made with interactive videos!